Posted in Other fiction, Reading Reviewed at 12:00 on 1 December 2018
Andre Deutsch, 1987, 211 p.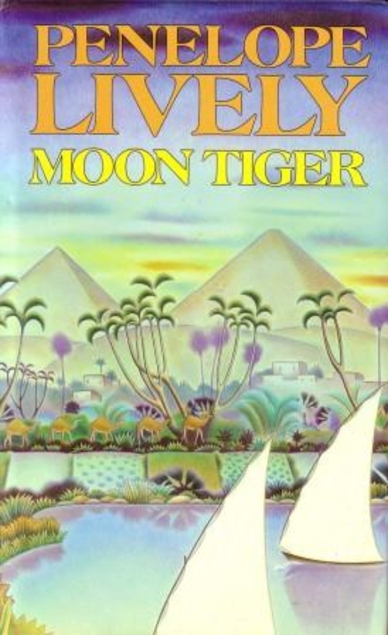 Claudia Hampton, a professional historian and, though unmarried, mother of Lisa, is on her deathbed. The doctor mentally notes that birth and an earlier miscarried child. While various important people in her life come and go at her bedside Claudia's thoughts roam over her life. Her reminiscences are presented in the first person but sometimes scenes (even the same ones) are given to us in the third person from a different viewpoint. Claudia tells us, "I've always thought a kaleidoscopic view might be an interesting heresy…. Chronology irritates me…. everything happens at once."
She recognises her inadequacy as a parent and is pleased her daughter is not overly gifted, "Intelligence is always a disadvantage. Parental hearts should sink at the first signs of it." The two most important of her relationships were those with her brother Gordon and with Tom Southern, the lover she met on a trip up to near the front during her stint in Cairo as a War Correspondent in World War 2. Love came on her as a surprise, "She has reached the ripe old age of thirty-one without knowing this particular derangement. For derangement is surely what it is; only by stern physical effort can she keep herself from looking at him, touching him." This being wartime the affair ends abruptly. The child she miscarried was of course Tom's.
So. Love, sex and death, here we are again. But Lively has conjured a wonderful book from those ingredients, well worth its Booker Prize win in 1987. Her treatment of the desert war is full of incidental detail rather than grand sweep and is more immediate for that fact. Tom tells her, "'An astonishing amount of piety goes on out here. You'd be surprised. The Lord is frequently invoked. He's on our side, by the way, you'll be glad to hear – or at least it's taken for granted that he is,'" and that, "we will win the war" – "'in the last resort we have greater resources. Wars have little to do with justice. Or valour or sacrifice or the other things traditionally associated with them. War has been much misrepresented, believe me. It's had a disgracefully good press.'"
Lively's knowledge of Egypt is put to good use (the Moon Tiger is a green coil that slowly burns all night, repelling mosquitoes) and the casual racist attitudes of the time are noted. "It was always mildly satisfying to see British racial complacency matched if not excelled by French xenophobia; the contempt with which Madame Charlot and her friends could invest the word arabe was more pungent even than the careless English 'Gyppo' or the curious pejorative use of 'native'. It made us seem positively liberal-minded," yet Claudia's reflections on life conclude, "unless I am a part of everything I am nothing."
There is more than a hint of the unusually close about the sibling relationship. "Until I was in my late twenties I never knew a man who interested me as much as Gordon did…. I measured each man I met against him, and they fell short. I tested myself for the frisson that Gordon induced, and it was not there." This is underlined by the thought, "Incest is closely related to narcissism." Plus we have, "I love you, she thinks. Always have. More than I've ever loved anyone, bar one. That word is overstretched; it cannot be made to do service for so many different things – love of children, love of friends, love of God, carnal love and cupidity and saintliness."
Lively portrays very well the heightened awareness, the stark but total recall, of a passionate relationship. The descriptions of the remainder of Claudia's life after Tom's death – eventful and readable though they are – are subtly flatter. Her complicated relationship with Lisa's father, Jasper, is also handled perfectly.
This is literary fiction at its best.
Pedant's corner:- waggons (wagons,) a missing comma before a piece of direct speech, maw (as a mouth. It's a stomach,) "The bridges wear necklaces of coloured lights; all along the banks the houseboats are ablaze, glowing against the dark, swirling patterned water" (this was in wartime Cairo. Surely it must have had a blackout. There was one in Alexandria. Then again, Lively was there herself during the war,) staunches (stanches.)
Tags: Literary Fiction, Other fiction, Penelope Lively, Second World War, World War 2, WW2, WWII