Posted in Other fiction, Reading Reviewed at 12:00 on 27 July 2017
Harvill, 1996, 302 p. Translated from the Russian Белая гвардия, (Belaja gvardija, first published in 1925,) by Michael Glenny.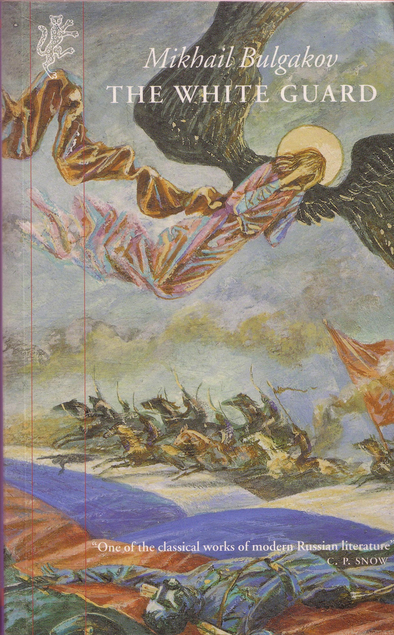 There is a sense in which – like Tolstoy's happy families – all Russian novels are alike. A blizzard of polysyllabic names potentially confusingly embellished with the corresponding patronymics not to mention the seemingly obligatory diminutives, with always a sense of foreboding in the background, if not the foreground. You certainly don't turn to them for sweetness and light. Then again, love, sex and death are the wider novel's perennial preoccupations.
To be sure there isn't much focus on love in The White Guard, no sex at all, and I can recall only three actual deaths described in the text; but the prospect of death hangs over everything. Here there can be, too, as I also noticed when reading War and Peace, a sudden lurching through time from a particular chapter to the next. One surprising thing I discovered from it is that a Ukrainian clock seems to make the sounds tonk-tank rather than tick-tock.
The novel is set in Ukraine, in "the city" (only once identified as Kiev,) amid the turmoil that followed the 1917 revolution and centres round the affairs of the Turbin family and those who live in the same building. During the novel the city starts out under the rule of the Hetman – in whose army the male Turbins serve as officers – but is threatened by Ukrainian Nationalist forces led by Simon Petlyura; and beyond that, the Bolsheviks. The disorganisation and unpreparedness of the defending forces is well portrayed – a bit like Dad's Army but without the laughs – and the mist of rumour and counter-rumour accompanying the situation when the city falls to Petlyura conveys the commensurate sense of febrility.
Bulgakov's first novel and the only one to be published in the USSR in his lifetime, The White Guard is an insight into an all-but forgotten moment in an interregnum of upheaval and change and is worth reading for that alone. But a marker of the futility of it all is the thought that, "Blood is red on those deep fields and no one would redeem it. No one."
While it has touches of the fantastic, including several dream sequences, The White Guard does not (cannot) touch the heights of the same author's The Master and Margarita but it is well worth reading on its own terms.
Pedant's corner:- While at the end of a piece dialogue a full stop, question mark or ellipsis is included inside the quote marks; if the sentence carries on and so requires a comma this, against the accepted practice, is almost – though not quite – invariably set after the quotation. Otherwise; the Ukraine (when first translated this usage was common, but nowadays its inhabitants prefer "Ukraine".) "As if at by unspoken command" ("As if at", or "As if by", not "As if by at",) Karas' (Karas's,) négligé (usually négligée,) Tubirn (Turbin,) hung (hanged, but it was in dialogue,) Toropets' (Toropets's.) Exct ed (????) a missing start quote mark, french window (French window,) I thought earlier on I had spotted a waggon but did not note its place (later on there were wagons,) St Nicholas' church (St Nicholas's.)