Posted in Other fiction, Reading Reviewed at 22:00 on 4 January 2017
Phoenix, 2005, 506 p, plus i p summary, i p about the author, ii p "For discussion", x p "A walk in the footsteps of The Shadow in the Wind" including ii p maps. Translated by Lucia Graves from the Spanish La sombra del viento, Editorial Planeta, 2002.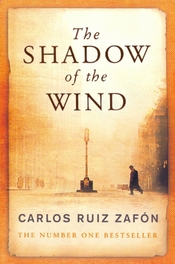 Well, this all started out promisingly enough with ten year old Daniel Sempere being taken by his father to the secret Cemetery of Forgotten Books to pick one out for himself, to keep it alive. This conceit hinted that the novel would be one of those books about books and the importance of the word like The Name of the Rose, especially since Daniel is told, "Every time a book changes hands, every time someone runs his eyes down its pages, its spirit grows and strengthens," but the novel soon veers off into more conventional unravelling a mystery territory.
The book Daniel picks is titled The Shadow of the Wind by one Julián Carax. Daniel reads it and is enthralled, wishing to find out more about its author and any other books he may have written. But Carax is an elusive creature. Very few of his books (most of which sold in pitifully small numbers) survive. In addition a mysterious man going under the name Lain Coubert, a character in Carax's Shadow of the Wind, is going around buying them up – in order to burn them. Already we are in a recursive situation, a loop which is in essence claustrophobic. Too many of the characters in the book are bound up either with Daniel, Carax or both.
Daniel's first infatuation is with the blind Clara, quite a few years his senior. Their (necessarily) chaste relationship – and her entanglement with her piano teacher – is somewhat reminiscent of Gabriel García Márquez but as if off-key, though paradoxically, given Marquez's magic realism, none of this aspect of Zafón's novel feels natural. It appears forced, occurring only at Zafón's will. Other backstories read like information dumping and there are too many parallels between Carax's life and Daniel's; between his friend Tomás Aguilar and Carax's, Jorge Aldaya, between his first lover Beatriz Aguilar and Carax's, Penélope Aldaya.
As an example of an authorial misstep Zafón has Daniel tell Bea about Carax's The Shadow of the Wind that, "This was a story about lonely people, about absence and loss, and that that was why I had taken refuge in it until it became confused with my own life," inviting us to draw a parallel that had been obvious long before. Yes, Daniel's friend, Fermín Romero de Torres, is a memorable character but the villain of the piece, Inspector Francisco Javier Fumero, tends to the cartoonish, his obsession with Carax insufficiently founded – at least to me. There are, too, frequent recapitulations of the story to other characters. The Aldaya mansion on the Avenida del Tibidabo, though, is a gothic enough creation, along with the statues in its grounds.
Attempts at background verisimilitude also fall down at times. An old quack's "sole remaining wish was for Barcelona's football team to win the league, once and for all, so that he could die in peace." This is an odd observation for someone to make in 1954 as Barcelona had most recently won La Liga in season 1952-3 and also the one before. Again in 1954 a restaurant manager apologises for poor service by saying, "'But s'afternoon, it being the European Cup semi-final, we've had a lot of customers. Great game.'" The first European Cup semi-finals did not take place till 1956. Similarly there is a mention of the League Cup – but the La Liga Cup did not start till 1984 (and only lasted four years.) Did Zafón perhaps have the Copa del Rey in mind?
Still, "'Mysteries must be solved, one must find out what they hide,'" and I suppose this is what keeps us reading but while it may be true that, "People tend to complicate their own lives, as if living weren't complicated enough," I'm not sure I agree with the assertion, "'When we stand in front of a coffin, we only see what is good, or what we want to see.'"
Set where and when it is The Shadow of the Wind could not avoid touching on the fallout of the Spanish Civil War but it does so only tangentially. It is eminently readable but in the end it doesn't manage to achieve the stature that the author is clearly striving for. Quite simply in this book Zafón is trying too hard.
Pedant's corner:- "a couple of nuns …. mumbling under their breath" (ought really to be breaths,) polanaises (polonaises; this correct form is used later in the book,) "froze the blood in my veins" (really? Especially when followed on the next page by "my blood froze,") the Barcelós apartment (Barceló's,) for goodness' sake (goodness's,) automatons (okay it's acceptable in English – as well as automata, the plural from the Greek,) "none of the drawings were more than rough sketches" (none was more than a rough sketch,) faggotry (a USianism,) "'It's my fault,' I said. I should have said something…'" (missing open quote mark after "I said.") "An act of charity or friendship on behalf of an ailing lady" ('on the part of' is meant,) "which violated at least five of six recognized mortal sins," (shouldn't that be "five or six"? – and violated here seems to mean committed,) morgue (mortuary,) with sudden heartfelt hug (with a sudden,) catlike smile the smile of a mischievous child (a missing comma after the first smile,) garoted (garrotted,) Jacintaʻs vision (has a backward, and upside down, apostrophe,) "so that he can have a brain scan" (a brain scan? In 1954?) Barnarda (her name everywhere else in the novel is Bernarda,) passion (passion,) a benzine lighter (the term used in English is cigarette lighter,) "and whose specialty was Latin, trigonometry, and gymnastics, in that order," (that's three specialties.)
Plus points for "not all was lost".