Posted in Other fiction, Reading Reviewed at 12:00 on 27 November 2023
King Penguin, 1987, 186 p. Translated from the Czech by Peter Kussi. First published as La Valse aux adieux, © Éditions Gallimard, Paris, 1976.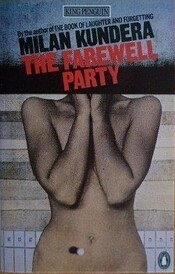 This novel's story unfolds over five days, the events of each of which make up the book's sections.
Klima is a jazz trumpeter who has an erotic secret. As he tells his friend Bartleff, a rich American, "I love my wife." That, however, has not stopped Klima from having sex with other women, one of whom, Ruzena, is a nurse in a fertility clinic in the spa town where Bartleff lives. An earlier phone call from Ruzena to Klima announcing she is pregnant has brought Klima scurrying to the town to try to resolve the situation. Their story is mixed in with that of Dr Skreta who runs the clinic, his friend Jakub, a former political dissident who has just received permission to leave the country and Jakub's ward, Olga, the daughter of the man who betrayed Jakub to the authorities.
Skreta has had great success in enabling his clients to have babies. He has a sperm bank using his own semen as a result of which many of them have features resembling those of the doctor. "I have cured quite a few women of childlessness by using this approach."
Klima wishes Ruzena to have an abortion but she refuses, at least initially. Skreta heads the abortion committee before which Ruzena would have to appear. Its two mature women members are generally unsympathetic to those who come before them wishing the procedure, an attitude Skreta interprets by saying women are the greatest misogynists in the world, always doing other women down. Misogyny, though, is a strain which tends to run through the book.
The character of Jakub allows Kundera to comment on the restrictions of a repressive state and the traits that inculcates, "All you have to do to turn people into murderers is to remove them from their peaceful circle of family home and work. Every now and again history exposes humans to certain pressures and traps which nobody can resist." On people who seek revenge for their plight on the descendants of their persecutors he opines that victims are no better than their oppressors.
Bartleff, too, has observations to make, including that Saint Paul was not only a disciple of Jesus but a falsifier of his teaching. "His somersault from Saul to Paul. Haven't we seen enough of those passionate fanatics who jump overnight from one faith to another?" (I note here that Christianity's evolution after Saul's conversion makes a case for the religion(s) it became to be named Paulinity rather than Christianity.)
The Farewell Party (some translations give the title as The Farewell Waltz) is intricately plotted, the connections between the two main strands woven together in an unexpected but somehow inevitable – albeit harsh – way. The overall feeling though is one of distance, that we see the characters as through frosted glass. They don't seem to act for themselves so much as take the parts ascribed to them. But that is what living under a repressive regime must be like.
Pedant's corner:- "surely a more likable being that Raskolnikov's usurious hag" (than Raskolnikov's,) missing full stops at the end of two sentences.