Posted in Architecture, Art Deco, Kirkcaldy, Trips, War Memorials at 19:54 on 12 April 2012
On our trip south we next stopped near the small the small town of Alcester, in Warwickshire, England. It had a nice wee museum containing lots of Roman artefacts. The town's origins lie in Roman times.
The town has several Tudor style pubs and houses and a prominent church tower. The clock on the tower is unusually angled on a corner meaning it can be seen easily from the main street. The War Memorial is in the Church yard by the tree you can see in the photo of the church.
There was one possibly Deco building but it's more likely Georgian. Horizontals and verticals are a feature of both styles.
The roundabout has a globe at its centre. A woman in the museum told us there used to be a pub called the Globe here. When it was pulled down the roundabout still got called by that name so the local council decided to mark it with a globe.
On the Wednesday evening we had a nice meal in the Swan Hotel. We were the only patrons in the dining room. (Photo from Information Britain.)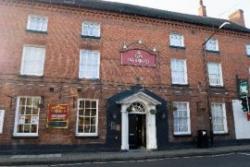 When we left, the air outside was bitterly cold! I couldn't stop chittering till we got back to our room (a few minutes by car.) Mind you we missed any snow in Kirkcaldy that may have fallen that week.
Alcester is a lovely wee place. We may go back sometime.
Tags: Alcester, Architecture, Kirkcaldy, War Memorials, Warwickshire