Posted in Lewis Grassic Gibbon, Reading Reviewed, Scottish Fiction at 20:00 on 15 April 2020
Penguin, 1945, 123 p.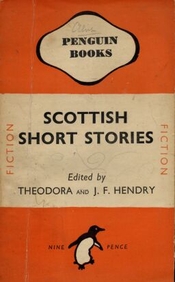 The back cover says this book was mostly edited by Theodora Hendry but she was killed in the London Blitz. The criteria for selection in the volume was Scottish stories with a Scottish setting or else it "would almost certainly have assumed an international aspect."
The first, The Coasts of Normandy by George Blake, is the story of a tragedy which befell the narrator's childhood friend and its effect on the child's mother as reflected through the prism of a chance encounter with a stranger many years later on the coast of Normandy. It takes a slightly circuitous route to its revelation (which the reader intuits well before the narrative gets there) but this allows for such thoughts as, "The simple feel as warmly as the clever and the learned." Another of its observations is a reminder that, for some soldiers at least, the Great War was not only a horrific trial and ordeal but also an opportunity to remake their lives in its aftermath.
In A Sunday Visit by Colm Brogan two boys are dragged along by their mother to the Mortons' house, where the family has just suffered a bereavement. Amid all the whispering, the boys are left to their own devices.
A Hike to Balerno by Ronald McDonald Douglas sees two boys on the titular hike, the escapades they get up to, the banter between them, "daft, just plain daft."
Clay by Lewis Grassic Gibbon is the story of Robert Galt, a man from a chancy background who takes a farm and devotes all his time to it, to the neglect of his wife and his daughter's prospects.
Beattock for Moffat by R B Cunninghame Graham tells of the last journey of a dying Scot on the train up from London with his cockney wife and his brother come to take him home to die. The author observes of the accomodations married couples make with each other that "usually … good points, seen through prejudice of race, religion, and surroundings, appear … defects," and refers to the Cockney wife's reticence being explained by, "the English theory, that unpleasant things should not be mentioned, and that, by this means, they can be kept at bay." The prose evidences that Scottish authors' eye for landscape.
In The Sea by Neil M Gunn a twelve-year-old overcomes his fears, staggering through the night down to the harbour to witness the perilous return of his father's and brother's boats during a great storm. Here it is seascape (or land-meets-sea-scape) which the descriptive powers bring to life.
J F Hendry's Chrysalis is a fragment of the childhood of a boy who wants to be good but fears he is bad because he sometimes is too enthusiastic in his activities.
Clock-a-Doodle-Doo by Willa Muir is set in a room full of clocks (all wag-at-the-wa') which can speak to each other, having theological discussions over whether the Son or Moon is the primum mobile and aspiring to Pure Horological Thought.
Neil Munro's The Lost Pibroch could be characterised as a Scottish version of the Pied Piper of Hamelin. Two pipers come to Half-Town. After a night of musical vying with the blind piper there he finally plays them the titular pibroch he "got from a man in Moideart." It has "something of the heart's longing and the curious chances of life" and sets up a wanderlust in those who hear it.
In The Matinee by Fred Urquhart a fifteen-year-old newly graduated into long trousers reverts to shorts to get into the cinema more cheaply, dragging his younger brother along for corroboration. Engrossed in a film where a factory owner exploiting the workers is presented as virtuous he fails to acknowledge his brother's increasing personal discomfiture.
Eric Linklater's Kind Kitty is an old woman who likes a drink, then dies through lack of it a few days after throwing a party for Hogmanay. She inveigles her way into heaven but finds the company there uncongenial, and the beer far too poor.
Pedant's corner:- a missing full stop, "brigh" (is missing a final 't',) missing commas before pieces of direct speech.