Posted in Irène Némirovsky, Other fiction, Reading Reviewed at 12:00 on 8 April 2019
Vintage, 2008, 174 p. Translated from the French L'Affaire Courilof, (Éditions Grasset, 1933,) by Sandra Smith.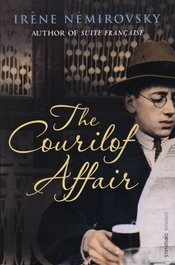 The narrative here has a prologue set in Nice in the 1920s which acts as a framing device but the subsequent chapters are delivered to us in the form of Léon M's memoirs. The son of would-be Russian revolutionaries, Léon was brought up in exile, and assigned by the Revolutionary Committee to kill the Russian Education Secretary, Courilof, a notoriously harsh man, known as the Killer Whale. To enable this and to worm himself into Courilof's household he takes up a position, under the name Marcel Legrand, as Courilof's physician. At once warming to his charge and disgusted by him, "Legrand" has a ringside seat at the ins and outs of the higher echelons of the pre-revolutionary system, watching Courilof fall from favour as a result of his marriage to his second wife (who has a past) before his restoration following a scandal involving his successor.
Despite Courilof's elevated position he nevertheless has the capacity to observe, "'An ordinary man has the right to be greedy, because he knows that otherwise he would starve to death. But these people who have everything – money, friends in high places, property – they never have enough! I just don't understand it.'" Plus ça change.
This is the only one of Némirovsky's novels to be set more or less entirely in her native Russia – and (almost certainly non-coincidentally) it is the most concerned with politics and the usage of power. Affairs of the heart are incidental here as it is the wielding of, and manœvring to maintain, influence, and the single-mindedness of those opposing the regime which are the book's main themes. Léon's subsequent acts as an instrument of the revolutionary government – a far more implacable proposition than Courilof ever was – are related briefly and quite off-handedly, simply as things that had to be done. Léon's fall from grace is glossed over, we never quite find out why he ends up living in exile – though we can guess.
This isn't Némirovsky at the peak of her powers but it is an interesting examination of the mind-set of would-be revolutionaries eager to be seen to be activists (the assassination requires as big an audience as possible) but more in thrall to the idea than the action – as well as, in Courilof, the exigencies of assiduous service to a monarch who doesn't warrant devotion.
Pedant's Corner:- "the Pierre and Paul Fortress" (usually Peter and Paul Fortress in English,) hung (hanged, x3, though there was a 'hanged' and one of the 'hung's on page 168,) Nevsky river, (it's the Neva river that flows through St Petersburg,) "fishermen ….must have the same feeling as they contemplate their dazzling catch" (catches, surely, since its fishermen, plural,) sterling (as a fish. Is there such a creature?) "A great crowd of people were silently listening to music" (a crowd was silently listening,) Léon as Legrand is referred to in speech as 'Monsieur Legrand' (the English would be Mister Legrand, but then back in the day educated Russians spoke French and the speaker thought 'Legrand' knew no Russian so would be addressing him in that language,) hiccoughs (hiccups, it's not – and never has been – a cough of any sort,) "I wanted to lay down right there" (lie down.) In the translator's Afterword: Camus' (Camus's, x2.)
Tags: French Fiction, Irène Némirovsky, Other fiction, Russian Fiction