Posted in Other fiction, Reading Reviewed, Science Fiction at 12:00 on 17 February 2019
Penguin, 2005, 296 p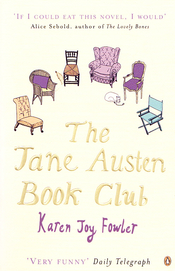 This book does what it says on the tin. Six people are brought together by co-ordinator Jocelyn to read the novels of Jane Austen and meet – or not depending on circumstances (a hospitalisation for example) – to discuss them, one each per month.
The novel therefore consists of six chapters, one per month but they are more about the characters' lives than any book discussions. We are also granted a prologue and an epilogue. Six pages devoted to synopses of Austen's novels follow the epilogue and these give in turn to 25 pages of responses to Austen's work – 2 pages of comments by her family and friends, the rest by critics, writers and literary figures – all accompanied by 61 bibliographical Notes. (Then we have 3 pages of those naff "Questions for discussion" sometimes appended to modern books. But I suppose that is what book groups do.)
There are some parallels between the lives of the group's members and incidents in Austen's novels, Jocelyn's attempts at match-making notable among them, but they are really just grace notes.
In effect, what Fowler has done here is conceived a way to collect six short novellas – or six longish short stories – under the umbrella of a novel. Yes, there is some character development – Jocelyn's initial dismissal of only male group member Grigg's enthusiasm for Science Fiction ("She didn't actually have to read science fiction to know what she thought of it. She'd seen Star Wars") overcome by his introduction to her of the works of Ursula Le Guin being a case in point.
The book is clearly targetted at readers familiar with Austen's œuvre as there is frequent mention of incidents/dilemmas/characters from the books plus an update of her most famous aphorism in the form of "'Everyone knows,' Prudie said, 'that a rich man is eventually going to want a new wife,'" but even those unfamiliar with the works will find it readable enough. I somehow doubt, though, that any aficionados will come away from this enthusing about it. It's not a patch on We Are All Completely Beside Ourselves or even Sarah Canary.
Pedant's corner:- Whenever a section starts with a piece of dialogue the opening quotation mark is missing (this is one of those publishing habits with which I disagree,) teepees – also teepeed (tepees – tepeed,) "the lay of the land" (it's "lie" of the land,) "playing the bagpipe" (bagpipes,) the occasional missed comma before a quote, L.A. at the end of a sentence not followed by the full stop. In the Responses: "there would be more genuine rejoicing at the discovery of a complete new novel by Jane Austen than any other literary discovery, short of a new major play by Shakespeare, that one could imagine" (than one could imagine.)
Tags: Karen Joy Fowler, Sarah Canary, Science Fiction, We Are All Completely Beside Ourselves