Posted in Other fiction, Reading Reviewed at 12:00 on 12 June 2018
Virago, 1998, 202 p.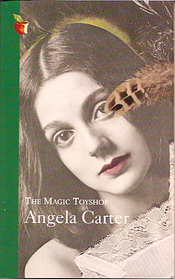 Fifteen year-old Melanie feels on the cusp of womanhood and wonders to herself how having sex or being married will feel. Her cosy middle-class existence is disrupted the night after she tries on her mother's wedding dress – damaging it in the process – as in what she interprets as a piece of (un)sympathetic magic she receives news her parents have both died on the trip they had been on. Along with brother Jonathon and much younger sister Victoria she is packed off to live with Uncle Philip, their mother's brother, who is married to Margaret Jowle, in turn rendered dumb ever since her wedding, communicating by means of chalk and blackboard. This new home is a constrained environment, ruled by Philip with a frugal rod of iron, Margaret and her brothers Finn and Francis (whom she brought with her to the marital home) living in fear. Philip is a toy/puppetmaker and they live over the toyshop which gives the novel its title.
The book has an odd sensibility, tonally and atmospherically redolent of Dickens, with some relationship dynamics reminiscent of Joan Aiken's The Wolves of Willoughby Chase but also containing faint echoes of The L-Shaped Room. The occasional references to such things as radios and other manifestations of (relative) modernity feel quite strange in comparison with the Victorian atmosphere which pervades the book even in the earlier chapters where Melanie is untroubled by straitened circumstances. This disjunction verges on magic realism as there is an aura of weirdness hanging over things throughout yet which never declares itself openly.
As the novel progresses Melanie's revulsion to Finn's lack of cleanliness and his interest in her is countered by her burgeoning awareness of sexuality. The twist near the end is one which I suspect neither Dickens nor Aiken would have dared essay though it might not have troubled Lynne Reid Banks.
Pedant's corner:- "Scarborough-is-so-bracing" (in the posters it was Skegness that was so bracing,) focussed (focused.) "There were a number of shops" "There were a number of cake tins" (there was a number,) "some armless, some legless, same naked, some clothed," (some naked,) "in two hundreds beds" (hundred,) "greasy Orientals" Vyella dress (Viyella,) tremulo (tremolo.) "The first of Jonathan's wooden ships were up for sale" (the first was up for sale,) "in the butchers" (the butcher's,) "open eyes of pure of colour" (has an "of" too many.) "She spread out her skirts and put shells into it" (skirts is plural; so, 'put shells into them',) pigmy (pygmy,) "who had laid in bed" (lain,) Aunt Margaret must have fried up everything friable in the larder" (fryable; "friable" means crumbly,) hiccoughing (hiccupping, the supposed resemblance to a cough is a misattribution,) "and she not sure" (and she was not sure,) a missing end quotation mark.