Posted in Other fiction, Reading Reviewed at 12:00 on 10 February 2020
faber and faber, 1990, 346 p. Translated from the Serbo-Croat Употреба човека (Upotreba čoveka) (Nolit Belgrade, 1980) by Bernard Johnson.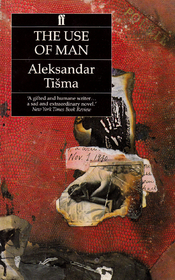 At first this book appears to have an odd structure, starting as it does with a description of Fräulein Anna Drentvenšek's diary, as if this is to be her tale, but she is soon dead following a gall-bladder operation. Then Chapter 2 is devoted solely to descriptions of various habitations. In addition there are later chapters which deal only with descriptions of characters, or their nightly preoccupations, or their deaths – whether natural or violent.
Fräulein Drentvenšek, however, was a teacher of German and her services were much sought after in the then Yugoslavian city of Novi Sad. In her final hospital days she entrusted her diary to her Jewish pupil Vera Kroner, with instructions to burn it after she died but instead Vera inscribed it with the details of Anna's death before replacing it on Anna's shelves. The book is thereafter mainly concerned with the lives of four of Anna's pupils, Vera, Milinko Božić, Sredoje Lazukić and Sep Lehnart. As these events occurred in 1940 the book becomes an exploration of the Yugoslavian experience during the Second World War. There is obvious scope here for a novelistic focus on love, sex and death. The first of those is in short supply here (perhaps it's a luxury in a time of war and the breaking of nations) but there is plenty of the latter. Whether due to the filter of translation or the author's own intentions sex, though, is observed in a somewhat detached manner in the book – it's something people do (or have done to them, in Vera's case) but never described in any detail nor as a means to joy.
Being Jewish, Vera is of course predestined to the concentration camps, which she survives in the only way one could, by endurance and luck, Sep, her cousin on her non-Jewish mother's side, joined the SS, Milinko became a partisan, Sredoje a sexual predator. All are changed, after the war unable to settle to a life at odds with dark memories and broken minds or bodies. The utter disorientation which camp survivors must have felt is summed up by Vera's thought on returning to her childhood home after her experiences, "It was not home at which she arrived, though it was Novi Sad." And the war's end is not the story's, the idiosyncrasies of the new communist regime also have to be negotiated.
The Use of Man is both easy to read (since Tišma writes well,) yet not an easy read. The countries of central Europe and the Balkans have unenviable histories. For readers to explore those histories in fiction might be one of the best ways to prevent their repeat.
Pedant's corner:- "he like luxury" (liked.) "In their, furnished room" (no need for the comma,) "mount of Venus" (this may be a literal translation but in English it's 'mound of Venus',) heavey (heavy, unless 'heavey' is a word meaning 'having to be dragged',) a missing comma before, or at the end of, a piece of direct speech (several instances, with more of the former,) teen-agers' (teenager's,) "came to nought" (naught,) cozy (cosy,) willd (wild,) "she lost her husband from a bullet" (the English idiom is 'to a bullet',) dumfounding (dumbfounding.)
Tags: Aleksandar Tišma, Bernard Johnson, Other fiction, Serbo-Croat Fiction, Translated fiction, Yugoslavia