Posted in Other fiction, Reading Reviewed at 12:00 on 27 July 2019
Fourth Estate, 2011, 442 p.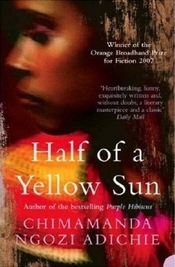 This won the Orange Prize for Fiction (now the Women's Prize for Fiction) in 2007. It perhaps had a head start in the judges' deliberations dealing, as it does, with those perennial literary biggies, love, sex and death. I suppose, if you treat them at all carefully and with facility, as Adichie does, you can't go far wrong. Add in the fact this also has central to its background the Nigerian-Biafran War then a degree of attention was almost guaranteed. But Adichie was of course exploring her country's history, what is still a raw wound to her parents' generation and her own. That too is a time-honoured literary preoccupation.
Sensitivity is an essential condition of worthiness, however, and what elevates Half of a Yellow Sun to the status of a worthy prize winner is the writing and characterisation. Any gory scenes are not gratuitous – indeed most of the deaths here occur off the page, though their aftermaths do not.
Narration duties are divided between Ugwu, houseboy to academic mathematician Odenigbo, Olanna Ozobia (Odenigbo's lover,) and Richard Churchill, an Englishman who fell in love with Igbo-Ukwu art and then with Olanna's non-identical twin sister Kainene.
The structure is unusual, two parts set in the early sixties and two late in the decade, but they are not sequential as they appear in the order early, late, early, late, so that we have the unusual literary device of the opposite of foreshadowing (aftshadowing?) when in the first 'late' part it is obvious something has occurred to cause a rift between the two couples – we can guess what but it is not actually shown to us until the second of the 'early' parts. (In that sense, since it is revealed to us later in our reading experience, it was a kind of foreshadowing after all.)
Richard learns Igbo and comes to identify himself with the people and with Biafra: so much so that he sends back despatches to editors in London explaining the Biafran view and the nature of Britain's responsibility for the Igbos' plight and complicity in Biafra's isolation. (Only six countries ever recognised the republic.) Richard's message is, of course, ignored and he is asked to provide pieces about how feckless Africans are. A running theme of the novel is the Biafran characters' blaming Britain for its part in the genesis of the war (divide and conquer policies in colonial times exacerbating differences) and its continuation (via arms sales to Nigeria.) It seems the kwashiorkor which blighted starving children in Biafra was dubbed Harold Wilson disease.
The war for the most part is offstage – apart from the necessity of Odenigbo and Olanna to move house to grimmer and grimmer locations – but when it does impinge it is shocking in its suddenness and arbitrariness. Even through all their peregrinations Olanna still tries to teach children in her surroundings. It is in these scenes we (re?)learn the symbology of the Biafran flag; red for the blood of Igbo massacred in the north, black for mourning them, green for the prosperity Biafra would have and the half of a yellow sun for the glorious future. The descent into brutality of soldiers ill-equipped to fulfil their military function but still with the means to exert their will is seen through the eyes of Ugwu, conscripted simply by dint of being out on the street. There is the odd glint of humour in that Nigerian soldiers are always referred to as vandals. The effects of Nigerian bombing and blockade are brought home when condensed milk, a slender tin of Ovaltine and a packet of salt from a Red Cross package seem luxurious. The mounds of food available in the markets when the war ends seem to have fallen from the sky. The bitterness of defeat after so many years of assured victory is conveyed when, "she … realized how odd it felt to say they won, to voice a defeat she did not believe. Hers was not a feeling of having been defeated; it was one of having been cheated."
Occasional very short extracts from a book written after the war and titled "The World Was Silent When We Died," comment on Biafra's situation. Richard reflects on the selfishness of writers, "He had read somewhere that, for true writers, nothing was more important than their art, not even love."
Their art, though. That's a precious thing.
Pedant's corner:- spit (spat, there were the other odd USianisms and US spellings scattered through the book, like 'shit' as a past tense; it should be 'shat',) a missing comma before a quote, Wentnor (Ventnor? But it is repeated so Adichie clearly intended it,) "for goodness' sake" (either 'for goodness's sake' or 'for goodness sake', please,) Jesus' name (Jesus's name.) "'I flew in relief to the Warsaw Ghetto'" (were there any relief flights by Swedish aristocrats to the Warsaw Ghetto? I doubt the Germans would have looked on that with favour and would also have made it far too dangerous. To Berlin in the airlift, perhaps?) "Some women who ,had been walking along the road ran too, " ('Some women, who had been walking along the road, ran too',) "all Biafran University staff was to report" (all staff were to report. Staff here is plural.)
Tags: Biafra, Biafran War, Chimamanda Ngozi Adichie, Nigerian Civil War, Nigerian Fiction, Nigerian-Biafran War, Orange Prize, Other fiction