Posted in Reading Reviewed, Science Fiction at 12:00 on 4 July 2016
Women's Press, 1985, 152 p.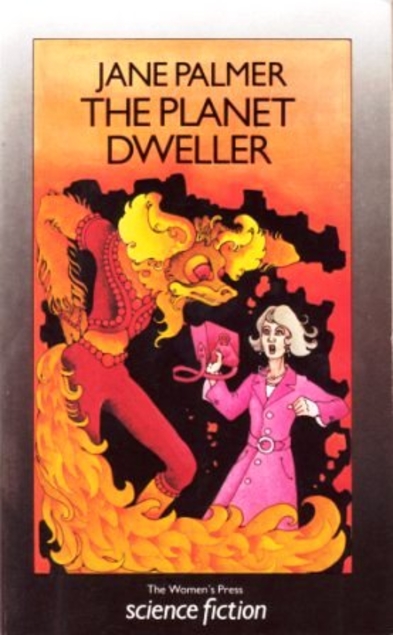 Another Women's Press SF novel I missed out on when first published. Its feminist credentials are established early. I can't recall reading another Science Fiction novel which mentions hot flushes, certainly not in its first three words as this one does. The sufferer is Diana who also hears a voice in her head, saying, "Moosevan." She lives near to a radio telescope where a Russian émigré named Yuri works. He has discovered certain patterns in the arrangement of the asteroids which suggest outside interference. The interactions among the characters here are well delineated, Yuri's tendency to drunkenness and the local toff Daphne's sense of entitlement being particularly well captured if a little clichéd. However, in chapter three the story takes a sudden lurch into a narrative which contains what I can only call cartoon aliens who have plans to set off a piece of equipment which will destroy a planet. The planet concerned surrounds the intelligence that is Moosevan (a planet dweller) and soon both Yuri and Diana are transported there where they encounter the Torrans who wish to disrupt the plans of the most dangerous species in the galaxy, the Mott, in their quest to possess new worlds.
The idea of an intelligence surrounded by a planet is certainly interesting but is not taken very far. The Planet Dweller is readable enough but in SF terms certainly belongs back in the 1980s or beyond. It is unfortunate that the SF element is its weakest part. The back cover of Palmer's later novel The Watcher (which I bought at the same time) says "Another joyous send up of the SF genre," so I assume The Planet Dweller is meant to be read in that vein. Humour in SF is a difficult trick to pull off. From the perspective of 2016 Palmer doesn't achieve it here.
Pedant's corner:- alchohol (alcohol,) scintar (as in "scintars and pulsars" which would suggest it's a kind of star but I've never heard of it and can find no definition of one,) "a light shower of carbon dioxide particles floated gently down through the thin air" (CO2 is invisible [but maybe not to cartoon aliens,]) lackies (lackeys,) shute (chute,) court martials (courts martial,) any other species' (species's? it could have been species plural though, the text wasn't exactly clear,) to see one if those creatures (one of those,) "though she was on the track of quark that would solve the riddle of the universe" (?? – Of a quark? Of quark as a type? )
Tags: Jane Palmer, Science Fiction, Women's Press