Posted in Reading Reviewed, Science Fiction at 20:00 on 9 January 2020
Tor, 1999, 347 p.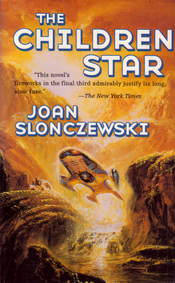 This is another of the author's tales of the Fold, an interstellar polity which we have met before in A Door Into Ocean and Daughter of Elysium.
Here, a prion plague known as the creeping is devastationg the human population of the planet L'li. A L'iite child called 'jum G'hana is rescued by Brother Rhodonite and taken to Prokaryon, a planet where the living things all contain ring-shaped structures in their body plans and chromosomes. Zoöids are animal-like, phycoöids resemble plants, phycozoöids display plant and animal traits, while the microzoöids are microbes. The planet is also rich in arsenic. Humans need to be life-shaped to survive there, a process which works better the younger you are. Adults have almost insuperable difficulties in being adapted. 'jum G'hana is on the cusp. She does, however, have a facility for numbers, especially primes which she calls 'orphans.' Sarai, a Sharer lifeshaper working on Prokaryon, connects the tale more directly to Slonzcewski's previous novels of the fold, which were both set on the Sharer's home planet of Elysium. Sarai's adoption of 'jum G'hana as a co-worker has ramifications later in the book in whose initial stages the narrative flow is cramped somewhat by the intrusiveness of the author's information dumping.
While there is a diversion into interstellar politics Slonzcewski's interest in The Children Star is on the biology of Prokaryon. Tumblerounds have a triplex DNA and reproduce by splitting three ways down the middle. Microzoöids contain a brain's worth of data in a single cell and are capable of 'infecting' humans. This is the main engine of the plot and an explicit threat to Prokaryon. The Fold's authority debates whether or not to destroy Prokaryon's indigenous life-forms (by a process known as boiling.) That at least some of these turn out to be intelligent would be their saving.
It's all readable enough – and more so than Daughter of Elysium. To have such a focus on biology at the microscopic level is an unusual trope in SF, but Slonzcewski is herself a biologist so that isn't too surprising. The characters tend a bit to the stereotypical, however.
Pedant's corner:- Sari (elsewhere Sarai,) clear (used as equivalent to colourless. Clear does not mean this, it means transparent. Objects can be both clear and coloured.) "Rod would never has asked" (never have asked.) "Patella came because is a Spirit Caller," (because he's a.) "Khral's voices was softened" (Khral's voice was softened,) 'jum Ghana (elsewhere always 'jum G'hana,) "or she would not have designed to come" (deigned to come makes more sense,) "he picked her up and folded her in her arms" (in his arms,) kidnaped (kidnapped,) "ten thousand-odd items priorities by her nanoservos" (prioritised makes more sense,) "only a few last long enough to secret toxins" (to secrete toxins,) odiferous (usually spelled odoriferous,) "others such correlations" (other such correlations.) "There … were a group of tumblerounds" (there … was a group.) "And what would the Fold do when they found out?" (And what would the Fold do when it found out?,) "all-to-familiar" (all-too-familiar,) "knew them better, perhaps, even then they knew themselves" (even than they knew themselves,) descendent (descendant.) In the Appendix (a description of the life-forms of Prokaryon): "Rotate as they swims through the water." (Rotate as they swim through.)