Posted in Reading Reviewed, Science Fiction at 20:00 on 5 June 2019
Avonova, 1994, 525 p.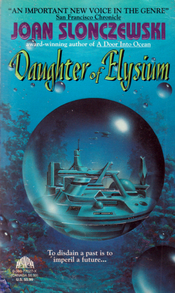 Raincloud Windclan is from the planet of Bronze Sky where women are called goddesses, and have the dominant role in society. She has come to Elysium with her family to avert a confrontation between its inhabitants and the apparently aggressive planet of Urulan. Elysium is a city established on the water-world of Shora but separate from the raft dwellers of that world familiar from Slonczewski's previous novel A Door into Ocean. Raincloud's husband Blackbear is a scientist set to investigate the possibilities of restoring fertility to Elysians, whose "children" – known as shonlings from the crèche-like shons where they are brought up – are artificially generated since Elysians' longevity treatment has modified their chromosomal DNA and conferred sterility. By treaty with the Shorans, though, the numbers of Elysians are meant to be kept steady.
Elysian society is attended to by genetically modified creatures known as sims, and artificially intelligent servants much given to intoning, "Please refer any fault to…"
There are, then, several conflicts built into this scenario as well as, in the persons of the Blue Skyans, a contrast with the gender norms of the time when Slonczewski was writing. Raincloud is an adept practitioner of martial arts, which gives her honorary male status in the eyes of the Urulite Ambassador to Elysium. Later, on Urulan itself, subjected to an attempt to murder her companions she muses, "Men were supposed to be wholesome nurturing creatures, not predators."
While it is gratifying to a Chemistry graduate like myself to read of acetyl and methyl groups and glucosamine in an SF novel and there is a concentration on domestic life usually absent in such genre works this one is marred by excessive information dumping. Another flaw is that we don't meet the indigenous inhabitants of Shora till well through the book. The enmeshing of all the elements of the set-up into the plot and its resolution is well-done though.
Pedant's corner:- dumfounded (dumbfounded.) "Did not 'death' equate 'shame' in the Urulite tongue?" (equate with,) unsubstantially (insubstantially.) "Her breasts peeped out cheerfully beyond her bare back and shoulders," (is some anatomical feat,) nanomanipulaters (nanomanipulators.) "What would Public Safety think, he wondered" (needs a question mark,) "either she was growing up – or just saving her spit" (??? Is this a USian phrase?) syllabi (I prefer syllabuses, it's not originally from Latin.) "His chest was crossed with ropes of milky gems set in good Blackbear stared" (???? '… set in gold' and a missing full stop?) "A number of long-necked reporter servos were on hand" (a number … was on hand,) "until the Gathering sent their messengers" (until the Gathering sent its messengers.) "Raincloud though it very likely" (thought it,) "took things in stride" (in her stride, please,) "'except prone'" (the context demanded 'supine', not 'prone',) "who had woken at last and began to wail" (the 'had' carries over, so 'who had woken at last and begun to wail',) "'none of the worlds we deal with are as safe as Elysium'" (none is as safe.) "None of the Guardians were allowed to leave" (none of the Guardians was allowed to leave.) "None significant were found." (None significant was found.)