Posted in Eric Brown, Keith Brooke, Reading Reviewed, Science Fiction at 23:06 on 17 December 2013
Illustrations by Dominic E Harman. Sarob Science Fiction and Fantasy, 2000, 175 p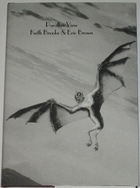 This is a collection of short stories, one each written by the individual authors, the remaining six in collaboration. Most of them I have read before on their first appearance.
In his introduction Stephen Baxter says "Science Fiction is the literature of our age….. one way of dealing with [future] shock… the only modern literature which deals seriously with the universe… as a protagonist," but "the best Science Fiction is, was and always will be about the impact of the universe on the human soul." All the stories herein illustrate that last point admirably.
Appassionata by Keith Brooke and Eric Brown
In a time of little musical innovation a famous but lonely young pianist is contracted to help a composer improve his work. Unknown to her the composer's personality has been imprinted with a simulation of Beethoven's.
Sugar and Spice by Keith Brooke and Eric Brown
A very human tale of loss, revenge and betrayal via the connection between two works of art related to each other through the nursery rhyme suggested by the story's title.
A Prayer for the Dead by Eric Brown
This is possibly the best of Brown's stories set on Tartarus, a tale of young love, tragedy and loss, and an enigmatic alien.
The Flight of the Oh Carollian by Keith Brooke and Eric Brown
Julius Frayn is an hereditary fluxmaster capable of guiding ships along the Songlines through time and space generated by the callers of Cynthera. His son Sylvian has not inherited the trait. This one has "had rode" for "had ridden."
Jurassic and the Great Tree by Keith Brooke
Jurassic is a disposable body inhabited by three personalities hired by an entrepreneur to investigate the reclusive humans called Burul'Chasi whose land he wishes to exploit. The Great Tree is the huge interlocking organism which dominates the Burul'Chasi's territory. Contains the phrase, "The only Terran life…. are…."
Mind's Eye by Keith Brooke and Eric Brown
In a setting reminiscent of Brown's Bengal Station but apparently not offshore, a girl from the lower levels comes up to Sundeck where she is befriended by a telepath on a mission.
Under Antares by Keith Brooke and Eric Brown
Mackendrick is a former Planetary Overseer on Shannon's Break, second planet of Antares. Six and a half years after his wife's death as result of an entanglement with the local aliens, the Shandikar, he is called in as blood-tied-speaker when his son trespasses on one of the Shandikar's holy sites. Dealing with both enigmatic aliens and religious practices, this story bears Brown's hallmarks.
The Denebian Cycle by Keith Brooke and Eric Brown
An exploration group on Deneb 5 is forced to trek north when their lander and food are destroyed in a forest fire caused by a lightning storm. The local vegetation is all but inedible. Eventually they come upon a stash of food left by the semi-sentient natives and then the natives themselves. Those familiar with John Wyndham's Survival will not be surprised by the ending. Here there were three instances of the seconds/minutes later formulation, a persona non gratis, (which should be grata,) lay instead of laid as a perfect tense, and the authors felt it necessary to qualify "flayed" with the words "- skinned alive."
Overall, though, a very good, very readable collection.