Posted in Reading Reviewed, Scottish Fiction, Scottish Literature at 12:00 on 2 February 2020
Penguin, 2005, 158 p.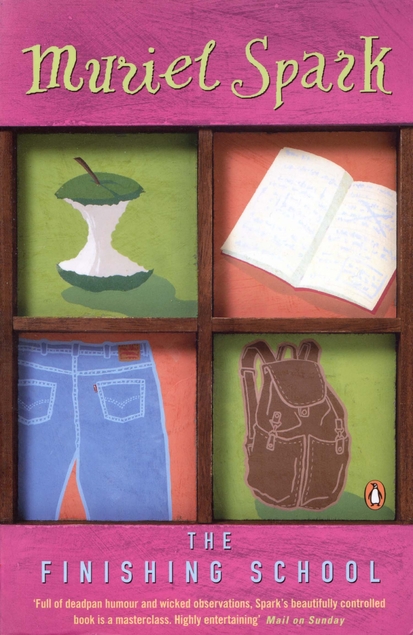 On reading this I found my dissatisfaction with Spark's writing beginning to crystallise. Clearly people find it engaging and worthwhile but to me there is something cold and detached about it, observational yes, but uninvolving. Her de haut en bas style renders her characters flat and merely going through whatever motions Spark intends for them. They don't come alive. They certainly don't leap off the page and into my mind.
This one all starts promisingly enough with a lecture on scene-setting in writing delivered by the joint owner of College Sunrise, the Finishing School of the title. He is Rowland Mahler who runs the place along with his wife Nina (who actually does most of the work.) One of the attendees, Chris, a seventeen year-old, is writing a novel where he speculates the death of Lord Darnley, second husband of Mary Queen of Scots, was instigated by a desire for revenge on the part of Jacopo, brother of David Rizzio in whose murder Darnley was deeply implicated. Rowland has aspirations to be a novelist himself but having read Chris's first two chapters finds himself blocked and increasingly obsessed with Chris.
That first page is deceptive though and we are soon pitched into a narrative where too much is told, not shown; where information is dispensed to the reader in a way that is like reading author's notes for characters rather than experiencing them behaving as themselves. They may have passions but we are not given the opportunity to feel them but Spark does find space to include a few sideswipes at the publishing industry.
There are some interesting ideas here but they are not fleshed out. In the end this is not so much a novel, more like a series of preliminary sketches for one. Or an extended outline.
Pedant's corner:- wirey (the word is spelled 'wiry',) automatons (automata,) a missing comma before a quote (x2,) to-day (why the hyphen? It's spelled 'today',) "on the grounds of imputed, activities unbefitting her one-time royal connections" (doesn't need that comma after 'imputed',) "'Is that it's natural colour?'" (its.)