Posted in Reading Reviewed, Scottish Fiction, Scottish Literature at 12:00 on 23 May 2019
Penguin, 1960, 141 p.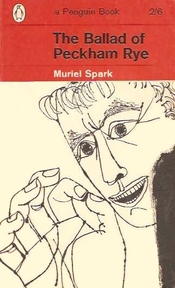 Dougal Douglas has been hired by Meadows, Meade & Grindley, manufacturers of nylon textiles, because "the time has come to take on an Arts man." The novel relates the effect this appointment has on some of the workforce and also on the inhabitants of Miss Frierne's lodging house where he holds a tenancy. One of these effects is that Humphrey Place jilted his intended, Dixie Morse, at the altar, an incident referred to in the book's first lines but not fully described till later.
I confess I find myself totally underwhelmed by Spark's writing. There is something about it which is just too detached. I never feel I get close to understanding why her characters behave the way they do, what motivates them; Humphrey's jilting of Dixie being a case in point. Spark is held in high regard though, so maybe it's my expectations of fiction that are at fault.
That this was published in another time – nearly sixty years ago now – is evidenced by the casual use of the phrase "nigger minstrels".
I have two more Sparks on my to be read shelves so I will be coming back to her – but perhaps not in the immediate future.
Pedant's corner:- a missing end quotation mark after a piece of direct speech (x 2,) " the brussels" (Brussels,) Hooch (it's heeooch, or heeugh.) "'You did, a matter of fact'" (the phrase is 'as a matter of fact' but this was in dialogue,) ditto "'What you know about kids?'" (What do you know?)
Tags: Muriel Spark, Scottish Fiction