Posted in Reading Reviewed, Scottish Fiction, Scottish Literature at 12:00 on 5 November 2017
In Phantastes and Lilith, Gollancz, 1962, 237 p. First published 1858.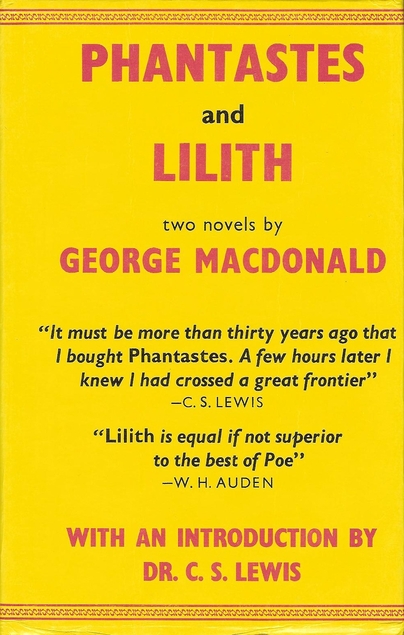 This takes much the same form as the same author's Lilith, which was originally published forty-three years after it. The narrator travels to a strange land – in this case Fairy Land – and has there certain adventures. On the face of it MacDonald had learned no new tricks over that time span but there was a slight difference in The Princess and the Goblin (1872) where at least there was in evidence something in the form of characters it was possible to care about.
In Fairy Land – reached seemingly by walking through a wood – the narrator (unnamed here, in Lilith at least he had a surname) among other things encounters a long dark shadow not attached to his body, deaths in various guises and more observations through a mirror.
As to MacDonald's prose I can only agree with C S Lewis who says in his introduction that, "The texture of his writing as a whole is undistinguished, at times fumbling." But where Lewis detects a mythopoeic quality in Macdonald, I cannot.
MacDonald's narrator seems to have forgotten Shakespeare's dictum that, "there's no art to find the mind's construction in the face," when he pleads, "'But tell me how it is that she could be so beautiful without any heart at all – without any place even for a heart to live in.'"
Definitely of its time. I would not have read it but for it being in the same set of covers as Lilith (and that I only read because it was in the 100 best Scottish Books list.)
Pedant's corner:- shrunk (shrank,) drank (drunk,) sung (sang, used correctly four lines later. Were these possibly misreadings of MacDonald's handwriting by the typesetter?)
Tags: Lilith, Scottish Fiction, The Pirincess and the Goblin