Posted in Other fiction, Reading Reviewed at 12:00 on 28 December 2020
Quartet, 1979, 275 p, including iv p Preface. Translated from the Japanese, 口笛をふく時, (Kuchibue wo Fuku Toki,) by Van C Gessel.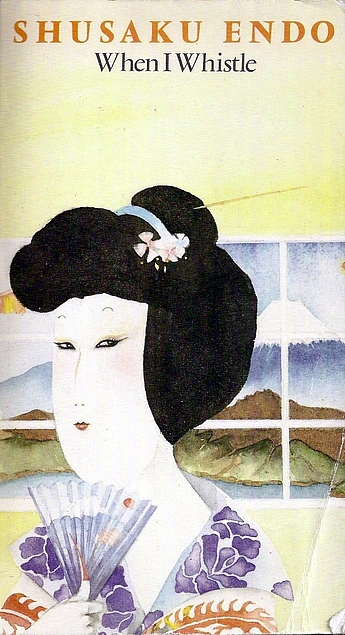 A chance encounter on a train with a former schoolmate forces a man called Ozu (I can't remember being told his first name) to think about a boy at school who was dubbed Flatfish. Flatfish, a new arrival in Ozu's class (not the top set by any means,) unfortunately had an odour but, because he was seated next to Ozu, by default became his best friend. Ozu had to explain to him all the unwritten rules but Flatfish continually managed to get himself in trouble both by accident and by being himself. The defining moment of Flatfish's life was an encounter the pair had with two girls from the local girls' school – with whom they ought not to have had any contact by the strict rules of the time – on the way home one day. Flatfish formed a lasting but doomed attraction to Aiko, the girl who, in an act of compassion, bandaged his injured hand. These schooldays were in the 1930s, Japan was embroiled in China and militaristic attitudes abounded but the nature of schooling (harsh) and the trials of dealing with the opposite sex come over as being not too dissimilar to Western experiences of the time.
In the novel's present day, Ozu's son Eiichi is a practitioner at the dispensary of the local hospital and eager to climb the greasy pole of the medical profession so does not demur from the outmoded prescribing and treatment practices of his superiors. He notes, in particular, the habit of telling soothing platitudes to patients. Despite his liaison with a nurse, Keiko, he sets his designs on his boss's daughter, but has a rival in Doctor Kurihara who also has a nurse on a string. Relations between the sexes in Japan had clearly also undergone a more liberal change post-war. Eiichi then is complicit in administering a new, otherwise untried, cancer treatment devised by a firm owned by Kurihara's father.
Flatfish not being academic quit school and got a poorly paid job but when war with the Western powers came (the feeling was that Japan would easily defeat them, of course, and at first it seemed so) was swiftly drafted into the miltary and sent to Korea. Nevertheless, he inveigled Ozu to seek out Aiko and give her a pen as a token of his esteem. She in the meantime had married a young naval officer. The reader suspects, rightly, that none of this will come out well. This thread between Aiko, Flatfish and Ozu is what binds the book together.
When I Whistle isn't one of Endo's better novels even if it is one of his later ones. There is something about the writing that is sketchy or ill-considered (which doesn't seem to be because of translation) and more than once information or characters' thoughts are repeated that have no need to be.
Still, the reflection, "People often wonder when they will die but they rarely wonder where they will die," is original but, "Now, when all was lost, he felt he understood the meaning they had given to his life," is a novelistic thought if there ever was one.
The Preface tells us that the author was himself in hospital for a considerable time with various complaints and during one operation his heart stopped. But he survived and continued smoking. It is noticeable that the doctors in this novel all smoke. Then again, it was first published in 1974.
Pedant's corner:- "if worse came to worst" (if the worst came to the worst,) "None … were" (several times. 'None …was'.) Opthamology (x 3, Ophthalmology,) knit (knitted, please. Okay the translation is into USian, but still,) "his voice rising to a crescendo" (to a climax; the crescendo is the rise.)