Posted in Other fiction, Reading Reviewed at 12:00 on 24 August 2020
William Heinemann, 1956, 286 p. First published 1925.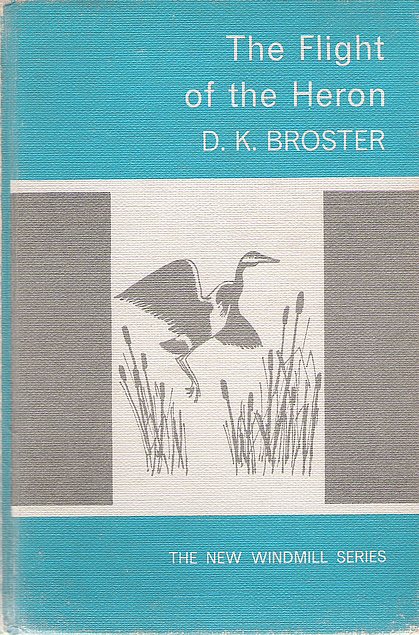 Broster wasn't Scottish but the background to her story most certainly is, probably the most worked-over seam in Scottish history, the Jacobite Rebellion of 1745-6, from Scott kicking off the whole historical novel malarkey with Waverley to Diana Gabaldon's Outlander.
The focus here is very much not on the battles of that rebellion but on the relationship between Jacobite Ewen Cameron (of Ardroy) and a Government Army Officer, the Englishman Captain (later Major) Keith Windham of the Royal Scots.
Just after Bonnie Prince Charlie has landed in Scotland, Windham is captured by Cameron (due to no fault of his own – his horse shying at a heron rising in front of it, which only slightly injures him but breaks the horse's leg – leaving him all but defenceless.) Windham is surprised to find Cameron not the barbarian of his expectations but a gentleman with fine and chivalrous manners. Having given his parole, Windham is indebted to Cameron for intervening when on a stroll round the Ardroy estate he comes across locals retrieving their arms cache from the thatched roofs of their houses and is thereby thought to be a spy. In the meantime, we find that Cameron's foster-father – who is a seer – has predicted that Cameron and Windham will meet a total of five times, leaving the reader totting up their encounters. Sure enough the pairs' paths cross again in Edinburgh after the Battle of Prestonpans when Windham has sallied from the castle in an attempt to capture the Prince – to whom Cameron is now aide-de-camp – who is visiting a house nearby, and once again Windham finds himself indebted to Cameron for allowing him to escape the clutches of Highlander reinforcements.
Windham's opportunity to repay these favours occurs in the aftermath of Culloden when he arrives just in time to prevent the execution of an almost dying Cameron – wounded and exhausted, barely able to stand – at the hands of a detachment of Government soldiers sweeping the countryside for rebels. Windham's speiring of Cameron as to the whereabouts of Clan Chief Lochiel then becomes a source of distrust between them before two final meetings in prison resolve their situation.
The book is dedicated to Violet Jacob, whose Flemington – which covers much the same ground as this – and Tales from Angus I read in 2015. Broster is not as good a stylist as Jacob was, though. Indeed, her prose tends to the utilitarian, but she does have an eye for landscape.
It is, however, impossible to read this book nowadays without wondering about its undercurrent, Windham's several times expressed "strong attraction" for Cameron. His striving to ensure Cameron does not suffer unduly in the Government soldiers' hands – even to the point of incurring the direct displeasure of the Duke of Cumberland – speaks of something more than mere obligation or friendship. A something that perhaps could not be addressed in so many words on the book's first printing in 1925.
Pedant's corner:- the very first word! Prolouge (Prologue,) h (he,) "'the Elector's'" (the meaning was 'of the 'Elector' hence, the 'Elector''s,) a missing full stop, "a file of soldiers were advancing" (a file … was advancing,) Glangarry (Glengarry, I think,) "more then stupefaction" (more than,) 'Hangman Hawley ('Hangman Hawley',) Mullins' (Mullins's,) an unnecessary end quotation mark, "which was, be believed" (which was, he believed,) Babenoch (Badenoch,) "'for you solicitude'" (your,) "aide-de-camps" (aides-de-camp, as was used elsewhere, except for one "aides-de-camps") a few missing commas before pieces of direct speech, lous d'or (louis d'or,) will-o-the-wisps (wills-o-the-wisp,) "were else" (where else,) staunch (stanch.)