Posted in Dumbarton FC at 20:24 on 25 November 2017
SPFL Tier 2, East End Park, 25/11/17.
In the end this was one point more than I thought we'd get but in reality two dropped.
First half we were in control but neither side really looked like scoring. It was a good enough game nevertheless – even if Dunfermline appeared poorer than a team in third place in the division ought to be. They weren't really on it, but that may have been due to us not letting them play. Not that that would excuse their misplaced passes…
I have to say the atmosphere im the away end was brilliant with youngsters having brought along a drum. I'm sure this must have communicated to the players. It was noisy enough!
Second half things livened up a bit. I'd just remarked to Onebrow that om Walsh's shooting could be improved. Next move he opened the scoring, taking the ball up, moving past a man and placing his shot into the corner. We could see it was in and the keeper wasn't going to get it from the moment it left his foot.
It didn't last long. Just after they made a double substitution a ball into our box was taken down and as soon as the player turned with it I knew it was going in.
Our first sub had a spectacular effect. Our Dimitris, back from injury, came on, with his first two touches of the ball swept past two defenders and with his third pinged it across the keeper into the far top corner. A goal to grace any game. Wonderful. Mind you he was pretty anonymous from then on, apart from having his legs taken away from him towards the end.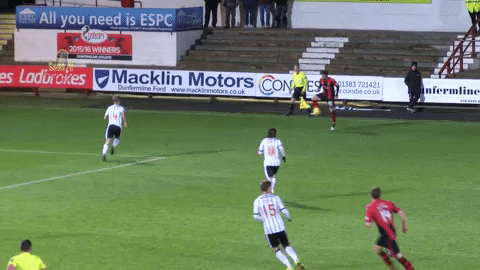 Dunfermline then threw everything at us and despite some good defending up to that point unfortunately with a minute or so to go managed to get their second equaliser after a bit of ping-pong in our box. So a potential three points became one.
The referee was poor though. A lot of decisions went against us when they shouldn't have. At one point one of Dunfermline's players threw himself into Christian Nade and bounced off him. Free kick to Dunfermline! Several times their players went right through one of ours and we didn't even get a free kick, still less the yellow cards the challenges deserved. Nick Walsh was the guilty man.
But the performance showed we can compete with teams in this division.
Tags: Christian Nade, Dimitris Froxylias, Dunfermline Athletic, Nick Walsh, Tom Walsh