Posted in Reading Reviewed, Science Fiction at 12:00 on 20 November 2023
Michael Moorcock and the British 'New Wave' in Science Fiction. Routledge & Kegan Paul, 1983, 256 p, including Preface, Acknowledgements, Notes, Bibliography and Index.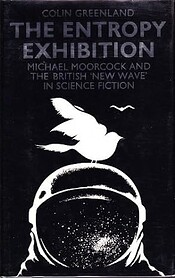 As its sub-title implies this is an account of the project Michael Moorcock started when he took over the British Science Fiction magazine New Worlds in 1964. This was to try to inject more literary qualities into SF which up to that point had been largely shunned by the 'mainstream' because of its pulp sensibilities as he did not see why SF should be separate from literature in general.
To that end Greenland gives us a history of New Worlds up to that point, considers the introduction of sex to SF stories (hitherto all but absent despite the prominence of the three Bs – Boobs, Babes and Bug-eyed Monsters – on cover illustrations,) the withdrawal from space fiction in favour of 'inner' space, questions of style, the salience of the concept of entropy to this mid-sixties endeavour, and offers us critiques of the contributions of the three most prominent figures of the British new wave, Brian W Aldiss, J G Ballard and Moorcock himself. (Though it receives a few mentions considerations of how the new wave played out in the US are beyond the remit of this book.)
Greenland is of the opinion that Aldiss's books Report on Probability A and Barefoot in the Head are the quintessential new wave novels with Moorcock's Karl Glogauer novels as exemplars of the new wave sensibility dealing as they do with "Time and identity: Moorcock's two great themes, perhaps the great themes of all New Wave sf."
Aldiss never really considered himself as part of a wave of any sort; he had in any case been prominent as a writer of SF before the 1960s.
Ballard was always something of an enigma. Whether he can be considered to "belong" to any movement other than his sui generis self is moot but he did contribute a guest editorial to New Worlds in May 1962 asking "Which Way to Inner Space?" an implicit call for a different approach to writing SF. Personally I have always seen in his writing – possibly due to his upbringing as an expatriate – an expression of English reserve taken to the extreme, elevated to an art form even. (His incarceration by the Japanese during World War 2 no doubt also contributed to his take on the world.) Greenland sees Ballard's principal tool for the disorientating effect of his prose as "unyielding irony."
The SF New Wave changed everything and nothing. After the 1960s experiment SF by and large returned to its ghetto and continued to be ignored by mainstream fiction. The attitude "if it's SF it's not good, if it's good it's not SF" still hung around.
Yes, literary qualities did become more common in the genre (and treatment of sex ceased to be shunned) and it is now possible for "proper" writers to dabble in its waters without expressions of horror – from either side – accompanying their efforts.
The Entropy Exhibition is by its nature (and origin as a dissertation for a D Phil) a critical endeavour and now stands as a historical document, and probably one only for those interested in the history of SF.
Pedant's corner:- extra-terrestial (extra-terrestrial,) sf (I prefer SF,) Euripides' (Euripides's,) Capadocia (Cappadocia,) fridgw (fridge,) "the relationship between my characters don't interest me much" (either 'relationships' or 'doesn't',) "a compete new political and social history" (a complete new,) enormity (seems to be in the sense of 'hugeness' rather than 'monstrousness'.) In the Notes; Hilary Baily (Bailey,) benefitted (benefited?)