Posted in Art, Exhibitions, Fife at 12:00 on 19 March 2022
Earlier this week the good lady noticed that there was an exhibition of the works of John Henry Lorimer at the City Art Centre Edinburgh. That was only just in time. The exhibition opened in November but finishes tomorrow!
I have mentioned this artist before. And not just the once.
On Thursday (17th) we made post-haste to see the exhibition before it closed.
One of the first of his pictures previously unfamiliar to me was The Long Shadows painted, like so much of his work, in the grounds of Kellie Castle in Fife. This photo does not do it justice:-
Lorimer was a good portraitist. One of the paintings on show depicted the ordination of elders in a Scottish Kirk. The figures were so lifelike in all their Calvinistic awfulness I couldn't bear to inflict it on myself or you.
This portrait is of Lorimer's architect brother Robert Stodart Lorimer, who designed over 300 War Memorials including the Scottish National War Memorial which lies in Edinburgh Castle:-
Typical of Lorimer's painting of light and very like Spring Moonlight (see first link above) in its use of candlelight is Grandmother's Birthday:-
Maternal Instinct by contrast contains very Victorian subject matter. Unfortunately reflections in the glass spoil this a little:-
The window in this one features in many of Lorimer's paintings. I think this is The Birthday Party:-
Despite no overt lighting depiction this domestic subject is unmistakably Lorimer:-
Another fine portrait – of a lady. Unfortunately I forget whom:-
A well as oils Lorimer was very good with watercolour. This, The Gyles House, Pittenweem, is the house in Pittenweem to which the artist retired:-
Housework's Aureole. In real life this treatment of light falling through a window onto a wall is superb. The photo is nothing by comparison:-
The exhibition's poster image was Flight of the Swallows:-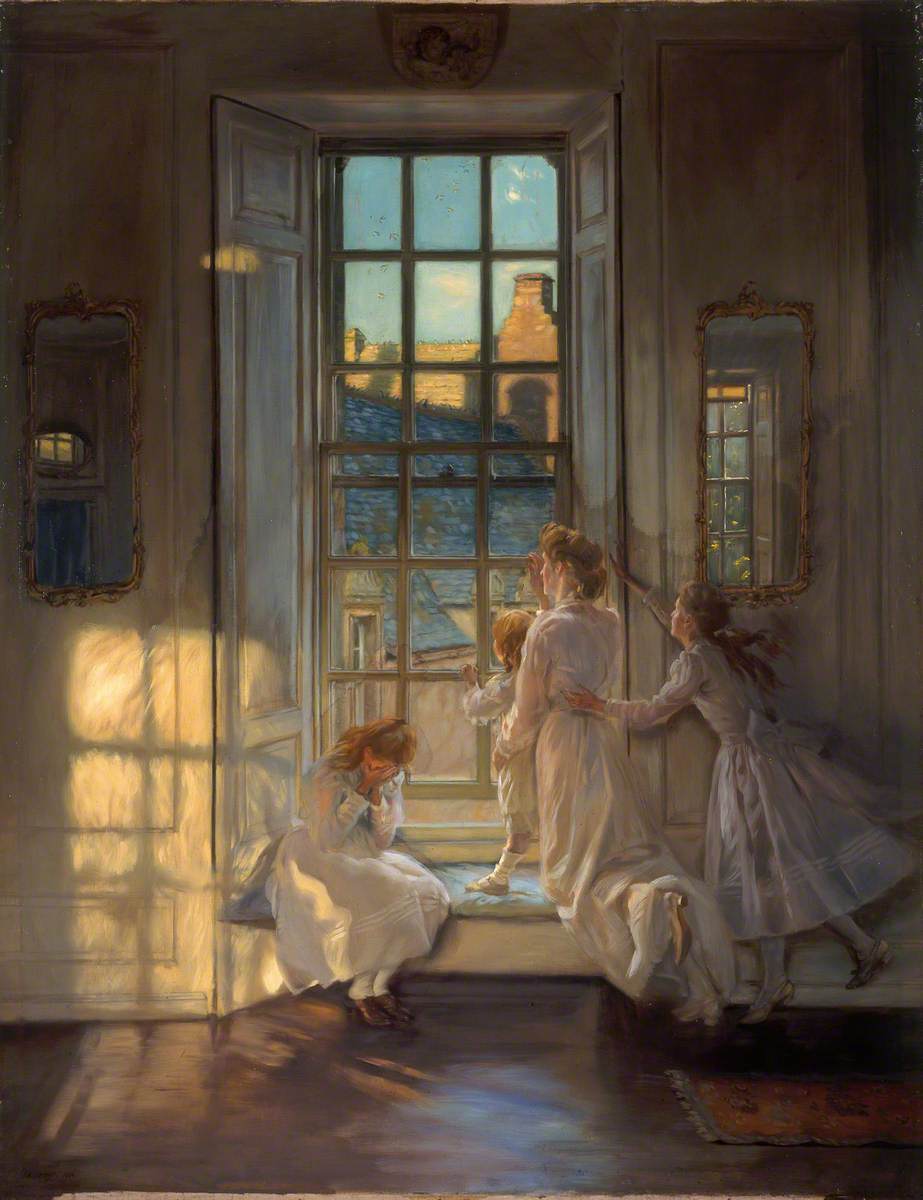 Many more Paintings by Lorimer can be found at Art UK.