Posted in Reading Reviewed, Science Fiction, Scottish Fiction at 12:00 on 27 December 2018
NEL, 2003, 316 p. First published 1998.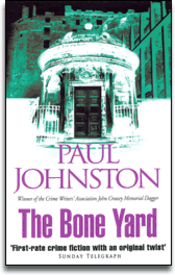 Being the renewed adventures of Quintilian Dalrymple (after Body Politic) in an independent Edinburgh in 2020 where the inhabitants lead circumscribed lives ruled over by a Council and guardians while tourists to the year-round Festival are afforded every luxury.
Two people are found with their throats bitten out, tongues and genitals removed, and a cassette lodged in the wounds, in each case with a blues song (the Blues are banned in this Edinburgh) on the tape. When the first body is found Dalrymple is assigned the case due to his success in solving earlier murders. The usual conflicts with his nominal overseers ensue. Along the way we find out what the mysterious Bone Yard is, plus its connection to both the mothballed Torness Nuclear Power Station and pills dubbed Electric Blues – which are potentially fatal to those with weak hearts. We, Dalrymple, and his sidekick Davie, also make re-acquaintance with Quint's love interest from Body Politic, Katharine Kirkwood. Her experiences outside Edinburgh in the interim, as recounted to Quint, have been grim (and a touch gratuitous) but provide a link to the killer.
The voice in which Johnston describes Quint and his attitudes is of the usual couldn't-give-a-toss, rule-bending, I'll-go-where-the-leads-take-me, would-be irreverent maverick type. While it seemed bright and almost fresh in Body Politic, here the similes and metaphors are either strained or overcooked.
Johnston has certainly hit on an unusual situation in which to set a crime novel. The speculative aspects are only trappings though. This is first and foremost a crime novel. A good enough one at that. But he's since written five more Dalrymple books (plus eleven others.) This one didn't much encourage me to look out the rest.
Pedant's corner:- "the temperature swapped a minus for a plus reading" (the temperature went down, so a plus was swapped for a minus,) "didn't use to turn up" (didn't used to.) "Tonight was the only night of the year when the curfew isn't enforced." (conflict of tenses; wasn't enforced is more natural,) had a accident (an accident,) bunsen burner (Bunsen burner,) e-string (E-string surely?) span (spun,) "a clear liquid" (colourless I think,) ouside (outside.) "Even though the numbers of Moslem tourists has fallen" (either 'number of' or else 'have fallen',) the Forth Rail Bridge (aka the Forth Bridge: since it's the original only any others need a qualifying description,) a missing re-opening quote mark when a piece of dialogue resumed. Asshole, ass and smartass (this is Edinburgh; even there they put the "r" in. Arsehole, arse and smartarse,) "didn't use to be like this" (used to be.)
Tags: Crime fiction, Paul Johnston, Science Fiction, Scottish Fiction