Posted in Andrew Greig, Reading Reviewed, Scottish Fiction, Scottish Literature at 12:00 on 1 May 2016
Pheonix, 2004, 510 p.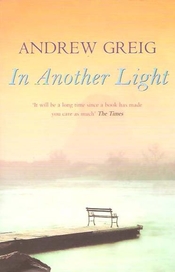 Love, sex and death again; but literature's subject matter doesn't get any bigger. And Greig deals with them superbly.
In In Another Light it is death which is the early preoccupation of Eddie Mackay, though love and sex do get a look in. Prior to the immediate events of the novel Eddie suffered from hydrocephalus as a result of a colloid cyst which meant fluid built up in his brain. He therefore feels the imminence of extinction everywhere, "'Because I was nearly dead once and I'm trying to live with that.'" During his recovery from having a shunt fitted to drain the fluid from his brain to his stomach Eddie experiences the presence of his dead father, who according to Eddie's mother had, long before she met him, been sent home in disgrace from Malaya after an affair with his superior's wife. Eddie doubts the truth of this but sets out to find as much as he can about his father's time in the colony. Eddie is working for a tidal generation project whose headquarters overlook Scapa Flow in Orkney. The jungle drums and the tangled relationships of Stromness become a running theme in the book. Of comments about his liaison with Mica Moar, another of Greig's complicated female characters (a bit – but only a bit – like Kim Russell in Electric Brae) he says, "'In my experience there's only one way to keep a secret in a wee town' … 'Plant the sapling of truth in a forest of rumours.'"
This strand of the book, delivered in a first person past tense looking back over the path which brought Eddie to the final scene, with occasional present tense interludes setting that scene, is intertwined with a third person present tense narration of the voyage of his father Sandy, as he was then known, to Penang in Malaya and his brief sojourn there. Medical graduate Sandy hopes to improve the birth survival rates in Penang's maternity hospital. The boat out is a hotbed of illicit goings on of which deeply moral Sandy is mildly contemptuous. The acquaintances he makes on the trip, US citizen Alan Hayman and the two Simpson sisters, Ann and Adele, "both beautiful, one a gazelle" the elder of whom, Adele, is married and chaperoning the younger, are fateful. A further sister, Emily, also on the boat, is still a child. Each chapter contains several sequences from both stories, generally alternating. The greeting, "'Oh, there you are,'" bounces around the two narratives. Both strands are thick with metaphor. The descriptions of Orkney and Penang make them almost characters in themselves – particularly Orkney. Certain images also resonate between the two locations.
The text is seasoned with sly critiques of Scottish attitudes, "I was in joyous life-affirming Scottish mode that morning and no mistake." "Scotland's a place where everyone explains what is not possible, that it'll all end in tears, we're here to make the best of a bad job then die and get a good rest till we're woken up to be informed we're damned." To Sandy's traditional toast "'Here's tae us, wha's like us? Gey few – and they're aa deid'" Hayman says, "'You guys, you can't even celebrate without bringing death into it.'"
Eddie's thoughts occasionally stray back to the subject of death. He raises with us the question of "How are we to live in the face of the sure and certain knowledge we will lose parents, friends, lover, the whole shebang and caboodle?" only to answer it immediately with, "Wholeheartedly. Of this one thing I am sure." Later he tells us, "It's such a simple and shallow thing, death, only there's no bottom to it and no way across."
He reflects that maturity is, "knowing you've more or less arrived at yourself and the world will keep changing but you won't much, and then living with that," while, "Pure lust, I'd noticed, eventually collapses under the weight of its own contradictions – rather like capitalism, but much quicker." However, "We need meaning, I thought. The world might not have any, but we need it," and, "Meaning is something we have to make."
Greig's numerous characters are all well drawn, their behaviour sometimes unexpected and contrary. I wouldn't go quite so far as the cover quote (from The Times) "It will be a long time since a book has made you care as much." Not for me. At least not since the same author's Fair Helen. He seems to have a gift for it. Add in computer programmes for generating music from tidal movements, the compromises of secret service work in the colonies, a thoroughly worked through plot (which admittedly may be a little too neatly tied in,) the perennial failure of true love (or lust) to run smooth and the whole thing's a delight.
Pedant's corner:- "'I'd left my [gas] mask back in the Mess'" (the Mess? In the trenches in WW1?) Brechin Pier (does Brechin have a pier?) "for a while neither of them speak" (neither speaks.) "Stacked alongside the reference books are a series of different coloured hardback files" (is a series,) baragraphs (barographs,) the phrase, "he was sad under his funny," (seems to be missing a final word,) furlough (is more a USian usage,) "The Moonlight Band play foxtrots" (plays,) "a think about what the heck's he's getting into," (what the heck,) sub-periphrenaic abscess (a google search for sub-periphrenaic yields only a quote from In Another Light: Andrew Greig,) whigmalerie (spelling of Scots words can be variable but this is usually whigmaleerie,) murmers (murmurs,) Theramin Dr Who electronic music (Theremin: also Dr Who's electronic instrument wasn't a theremin which as an instrument should be lower case,) "he scooped more peanuts down his maw" (I suppose it could mean stomach here,) "a group of macaque monkeys comes running" (a group comes,) "He's stares" (He stares,) whispy (context suggests wispy,) tweaked it it (one it is enough,) an assortment of … appear (an assortment appears,) Siouxie and the Banshees (doesn't she spell it Siouxsie?) vocal chords (it's cords,) Arshak Sarkies' (Sarkies's,) for completeness' sake (completeness's,) light defraction (diffraction? refraction? or is this a portmanteau word Greig has invented?) became (in a present tense narration this should be becomes.)