Posted in Football at 12:00 on 6 April 2016
On Match of the Day a few weeks ago the commentator on Leicester City's game mentioned that seven years ago Danny Drinkwater (I think) had been turning out for Leicester against Stockport County in the third tier and now he was at the top of the Premiership, remarking what a contrast that was.
I thought, wait a minute, it's not just Leicester whose fortunes have changed.
In that season Leicester won League One and began the journey back to the big time whereas Stockport County ended it 18th, partly due to a ten point deduction for going into administration.
The next season Stockport finished dead bottom and went down to League Two. (Norwich City won League One that season: yo-yoing up and down the divisions is second nature to some.) The season after that Stockport completed their descent through the Football League by also finishing bottom – of League Two – and so to relegation out of it.
Two more seasons and they even fell out of the Conference into the Conference North. This is the sixth tier of English football, a regionalised league, where they remain, 11th as I write. (Despite this regionalisation in its lower reaches the Conference is now called the National League.)
Football can be a cruel sport.
Notwithstanding this tale of woe Stockport have what on the face of it seems an unlikely fame in China once even having a Chinese team named after them. As that article reminds us at one time Stockport County were the second biggest team in the Manchester area, lording it over Manchester City.
They still manage to attract crowds of over 3000 to their Edgeley Park Ground (image from the link above):-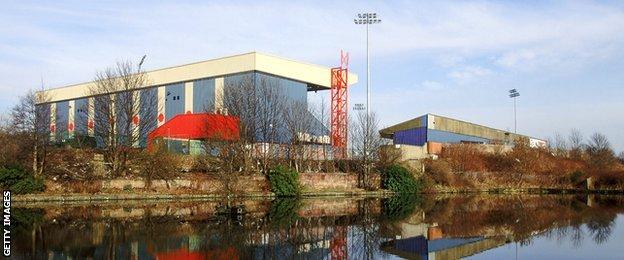 While researching this post I came across this Football League Fourth Divison (as it then was) top four from season 1966-7:-
1. Stockport County P 46 W 26 D 12 L 8 F 69 A 42 GA 1.643 Pts 64
2. Southport P 46 W 23 D 13 L 10 F 69 A 42 GA 1.643 Pts 59
3. Barrow P 46 W 24 D 11 L 11 F 76 A 54 GA 1.407 Pts 59
4. Tranmere Rovers P 46 W 22 D 14 L 10 F 66 A 43 GA 1.535 Pts 58
(For my younger readers the GA statistic is for goal average, the precursor to goal difference for separating clubs equal on points – for which in those days there were only two for a win. It's an interesting quirk that the top two here had identical goal scoring and conceding records but Stockport had won three more games.)
Admittedly it's forty-nine years on but all four of these clubs are now plying their trade outside the Football League, albeit in Tranmere's case only for this 2015-16 season. Barrow and Southport have in their time also fallen to the sixth tier – more than once – but have managed to climb back up to the fifth level again.
Maybe Stockport can do so too some time. Whether they can ever outdo Manchester City again is more doubtful.